21
07.2015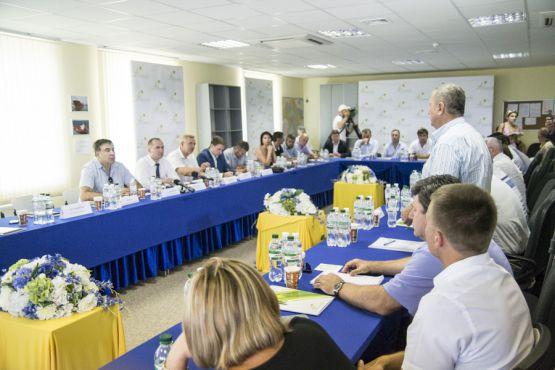 The Minister of the Agrarian Policy and Food of Ukraine A. Pavlenko (the Minister) and Governor of Odessa Regional State Administration M. Saakashvili (the Governor) met with agrarians on the newly launched on July 16, 2015 oil-extraction plant of Allseeds Group in Yuzhny port.
The event was also attended by the First Deputy Minister of Infrastructure Vladimir Shulmeyster, a member of the Verkhovna Rada Committee on Agrarian Policy and Land Relations Leonid Kozachenko, representatives of the local authorities, investors, representatives of processing companies, local and metropolitan mass media. The event was held in an open dialogue mode: agrarians shared their problems and suggested solutions to them. 
Minister of Agrarian Policy and Food of Ukraine and Governor of Odessa Regional State Administration (ORSA) promised to do their best to help resolve major problems of agrarians. O. Pavlenko pointed out, that Odessa region is an important strategic area, because it has huge potential in terms of growing, processing and logistics of crops.To hear Mr. Pavlenko say it, one of the most crucial joint tasks of the Ministry and ORSA is privatization of inefficient state-owned agrarian enterprises. 
Mikheil Saakashvili stressed that the deficient legislation prevents small agricultural producers from entering the domestic market. Participants of the meeting determined that attracting of investments was a strategic direction of agrarian development of Odessa region. With export potential of Ukraine at 34-35 million MT per year, the transshipment capacity of grain equals 4.5 million MT per month. Therefore, the optimization of the transshipment system in the region requires significant investments.
Press center
Share: