09
10.2018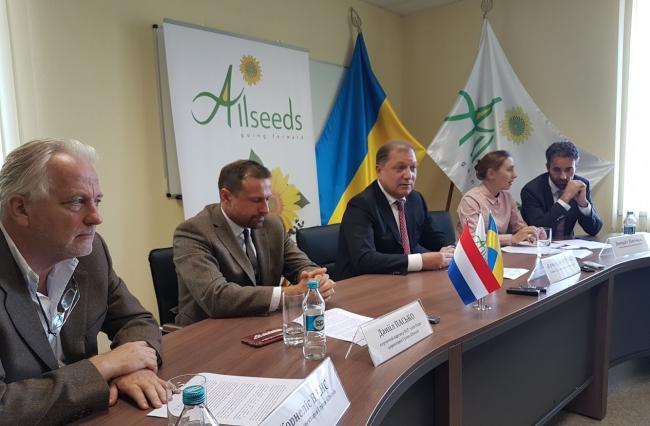 Trust in founding shareholders and professional management, an efficient business model and good business practice have been converted into capital - the Dutch development bank (FMO) and Diligent Capital Partners (DCP) have become shareholders in Allseeds SA.
FMO and DCP jointly acquired a 16% equity stake in Allseeds SA, providing financing to realize Allseeds' ambitious growth strategy that includes the expansion of its oilseed crushing and transshipment capacities as well as the addition of other value-added processing of vegetable oils and by-products. FMO and DCP will also work with Allseeds to enhance corporate governance and improve Сompany's environmental and social standards.
This equity investment will help position Allseeds as a leading agricultural commodities processing and transshipment hub in Yuzhny, Ukraine's deepest port, increasing the level of in-country value-add of agricultural commodities prior to export and improving links to the largest global markets.
Diligent Capital Partners (DCP) is a private equity manager focused on food and agribusiness, export-oriented businesses, and the consumer goods and services industries led by Dan Pasko and Mark Iwashko (www.diligent.capital). DCP led the deal origination and structuring and will be responsible for the management of the investment. Prior to the transaction, DCP worked with Allseeds on establishing its corporate governance system. 
Dan Pasko, DCP Co-Managing Partner, has joined Allseeds Board of Directors and stated: "We thank Allseeds founders Vіacheslav Petryshche and Cornelis Vrins for their commitment to developing this partnership. Having followed the development of the Company since its start-up 2011 we were truly impressed with Allseeds' progress in becoming a regional leader in agribusiness processing and logistics and look forward to contributing to future efforts to build upon their success to-date. We also thank our partners at FMO for their collaborative efforts in completing this transaction and look forward to our future work together."
FMO is the Dutch development bank. As a leading impact investor, FMO supports sustainable private sector growth in developing countries and emerging markets by investing in ambitious projects and entrepreneurs. FMO believes that a strong private sector leads to economic and social development and has a more than 45-year proven track-record of empowering people to employ their skills and improve their quality of life. FMO focuses on three sectors that have high development impact: financial institutions, energy, and agribusiness, food & water. With a committed portfolio of EUR 9.2 billion spanning over 82 countries, FMO is one of the larger bilateral private sector developments banks globally.
Jorrit Dingemans, Manager Private Equity Funds & Corporates Asia/ECA, stated: "We appreciate very much the fact that we were connected to Allseeds by DCP. We believe in the value of building local partnerships as a fundamental for doing good investments which create both economic growth as well as development impact. I was both impressed as well as inspired by what the Allseeds shareholders accomplished, building a ultra-modern facility from scratch in a strategic location for the oilseed value chain. We are proud to have become part of the Allseeds team and look forward to continue building the company, together with its founding shareholders and DCP. Growing Allseeds will be contributing to economic prosperity in the Ukraine and essentially to feeding the World." 
Allseeds is one of the largest producers and exporters of vegetable oils and meals in Ukraine. The Company operates a leading-edge multi-seeds oilseed processing plant with a capacity of 2400 MT/day for sunflower seeds (1800 MT/day for rapeseeds; 1500 MT/day for soybeans) in Yuzhny, Ukraine's deepest port. Allseeds also provides transshipment services for vegetable oils and oilseed meals via its own terminals in Yuzhny where vessels with deadweights of over 100 000 MT and drafts of up to 14.6 m can be loaded to serve remote destinations such as China, India, and the Middle East. The Company has a reputation of a reliable and highly professional partner on the global agricultural markets.
Viacheslav Petryshche, Allseeds CEO, said: "We are pleased that FMO and DCP have recognized our accomplishments and demonstrated their belief in our potential by making this investment. We have ambitious growth plans and are open to building partnerships to realize those goals. We also thank DCP for helping Allseeds bring its corporate governance standards to the level of international best-practices to help us attract such a reputable international investor as FMO."
Due-diligence and deal structuring support was provided by: Avellum, Baker McKenzie, Allen & Overy, Deloitte, Roland Berger and CapEos. 
Share: